We want to help you be successful learners in our new digital courses (Blended, Digital Unscheduled, Digital Scheduled).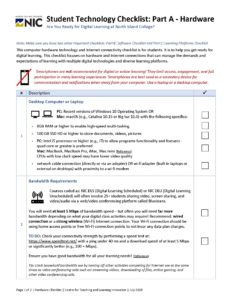 We want you to have the proper technologies, along with the necessary login access, tools and features already tested and explored before your classes begin. In this way you will have greater awareness and comfort with the courses and classes you are taking.
Even if you feel you are a very savvy user of technology, take some time to go through each checklist and ensure you have all the tools and technologies along with access and practice opportunities confirmed and ready to go!
NIC has created three important technology checklists to assist students in being ready for learning digitally:
Checklist A: Hardware outlines essential hardware and Internet connectivity speeds you should have for learning
Checklist B: Software shares key software, bookmarks and NIC student portal actions to undertake before starting studies
Checklist C: Learning Platforms outlines common actions related to the the three core learning platforms (Blackboard Learn, BlueJeans and NIC MediaSpace/Kaltura) you should practice before classes start
TO DO
Download each checklist in PDF format and/or print a copy.
Progress through each checklist and check off each item you have completed.
If you need assistance, reach out to the Student Technical Services team at North Island College with your question: Webpage