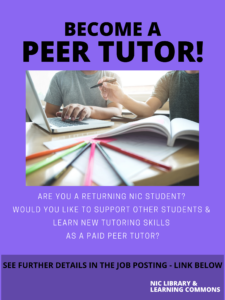 Seeking Students to Be Peer Tutors
Are you a returning NIC Student?
Would you like to support other students and learn new tutoring skills as a paid tutor?
Job Posting Details (Word Doc opens in a new window: Peer-Tutor-Job-Posting-2021)

Job Application Form (Word Doc opens in a new window: 2021-2022 Peer-Tutor-Application-Form)
Note: This form is meant for filling out digitally. Open in Word and fill in your information in the spaces provided by removing the temporary text.
Questions: Email Ben Hecht, Coordinator, Learning Commons at ben.hecht@nic.bc.ca
If you are unable to download the Word documents above, please email Ben and he'll be happy to share with you!