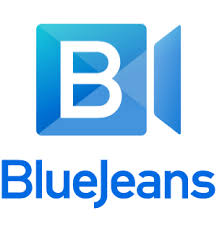 BlueJeans is NIC's video/web conferencing platform for live meetings, classes and office hours hosted on Canadian servers. It doesn't require any account or special access for students. Students receive a URL link from their instructor and click on it or enter the meeting ID numbers (9 digits) and a possible passcode (4 digits) into the BlueJeans app area for starting a meeting. The URL will prompt the student to download the app (https://www.bluejeans.com/downloads) as this little program makes for an easier connection and usability experience.
BlueJeans Handout of Key Items on this page: 2-page document | PDF
Key Links
What Technology Do I Require?
No Account Needed: You do not need a BlueJeans account – only your instructor needs a NIC Account
Device: A computer or laptop is recommended (not a Chromebook or Surface Go)  (note: we do not recommend you join by smartphone as quality of the call may suffer)
Camera: Web conferencing camera if you are going to share video of self. Cameras are built into laptops or can purchase a camera to hang over a desktop monitor. Web cams often come with mics.
Headset: Headset with a microphone is highly recommended as it does not pick up background noise. If you do not use a headset, you will need speakers and a quiet spot.
Reliable Internet Connectivity: Good internet connection. Consider at least 50 Mbps as a good standard for class gatherings with sharing screen, multiple video feeds etc. Seek a wired internet connection or move closer to Wi-Fi connection.
Desktop or Mobile App: While BlueJeans works satisfactorily via the Chrome browser, it is recommended you download the free BlueJeans desktop for better connectivity.
Lighting: Try putting a desk lamp off to one side of your face to make you have a brighter image when on video camera or if you have a second monitor try this site where you can enable a full white screen or a white circle of light | Website
Wi-Fi Connection for Mobile: Mobile phones work with BlueJeans, but some of the tools and buttons are not available or easily accessed. You need a strong Wi-Fi connection if you are using a mobile device. If not on a free or home wi-fi connection, you may incur data charges from your cell phone carrier.
Test Meeting: Join a private test meeting and speak with Jean the parrot. Link: https://bluejeans.com/111
Call Diagnostics Test: Test if your device is capable of making BlueJeans calls over the Internet: https://diagnostics.bluejeans.com/
BlueJeans Diagnostics Test
Here is a short video to show you how the Diagnostics works. Watch and then try out on all your primary and secondary devices you are using for your learning.
Where Can I Learn More About BlueJeans?
How to Download the Desktop App
How to Join a Meeting with the Desktop App
Direct Video Link or video embedded below
More Information: Webpage 
Icons: Mute sound and disable/enable video via the icons at top of screen
Shortcuts: "M" (for mute/unmute audio) and "V" (to enable/disable audio feed)
Use "T" to "push-to-talk" while your audio is muted. To speak while on mute, users may push the "T" key on their keyboard to temporarily unmute themselves and speak. When they release the "T" key, they will return to a muted state.
How to Join a Meeting with the MOBILE App
Steps on how to Join with the Mobile App
How to Join a Meeting with the DESK PHONE
Steps on how to join from a desk phone | Webpage
Mute/Unmute on phone – use * followed by '4' key
USE THE Raise Hand Feature to SIGNAL SPEAKING
ABOUT Expanded Gallery View (5X5)
USE Virtual Backgrounds FOR PRIVACY
How Does it Work?
Receive Link from Instructor: You will receive a link from your instructor inviting you to join online classes, individual consultations, or office hours. The link is a URL – example: https://bluejeans.com/1234567891/3344 (13 digit URL)
Use Browser or App to Access Link: You will click on the provided link to access the digital class either via your browser (Chrome) or the BlueJeans (free) desktop app: website | If you have the desktop app already downloaded the URL will open a browser window but then move to the app. The app is the preferred.
What Can I Do to Improve My BlueJeans Experience?
Strong Internet Connection: Be on a wired or strong wi-fi connection for best audio and video connections
Disconnect from any VPN: Do not have any VPN (Virtual Private Network) connections on (if appropriate)
Good Bandwidth: Turn off all other programs, apps or services using the internet including asking those in your residence to turn off streaming video / gaming programs (e.g., Netflix, music) for optimal bandwidth
Audio Only: Turn off your video or turn off video along with using dial-in audio
Well Lit Space: Make sure the light source is not behind you and your room is well lit
Neutral and Public Background: Choose a spot so others cannot see what is happening in your location
Quiet Location: Choose a quiet location when possible, so when you speak you can be heard by others
Mute Mic: Keep your mic muted whenever you are not speaking
Do not have access to a cell phone or computer? You can call in to a BlueJeans meeting with your phone.
If you are calling from inside Canada use this toll-free number: 1.778.807.4955 If you are calling in from outside Canada use this toll-free number: 1.866.599.3622

Note: if you are calling from within Canada and you use the 1-866 number you will be charged long distance fees. Similarly, if you are calling from outside Canada and use the 1-778 number you will be charged. Use the correct area toll-free number.

BlueJeans Website: More Best Practices

Where Can I get Support and Additional Help?