To assist students in learning more about the course learning platform, Blackboard Learn, NIC has created a Student Training Course – right inside Blackboard Learn!
It contains information about all of the core features and tools, along with practice areas for trying things out in a safe environment.
It shouldn't take more than 30 minutes or so to click through, read a short passage, try a tool out and make it through all the pages. Even if you think you know Blackboard Learn, you may learn something new. If you are new to this platform, we highly recommend you check it out and practice. Many staff members have been working on this site all summer to make sure it is easy-to-follow, provides just the key items and helps you be ready for learning.
FIND COURSE and ENROL
Go to Blackboard Learn (via https://learn.nic.bc.ca or off the main NIC website at top right under Quick Links or via MyNIC student portal)
See this Student Technical Services page for more details on logging in with your NIC username and password.
Under Student Resources Tab at top look for the box about Blackboard Training and the first link is about the "Student Training Course'. Click on the linked words.

4. You will then be presented with this scary screen with the Error message. Ignore that and go to the "+Enroll" link on left side.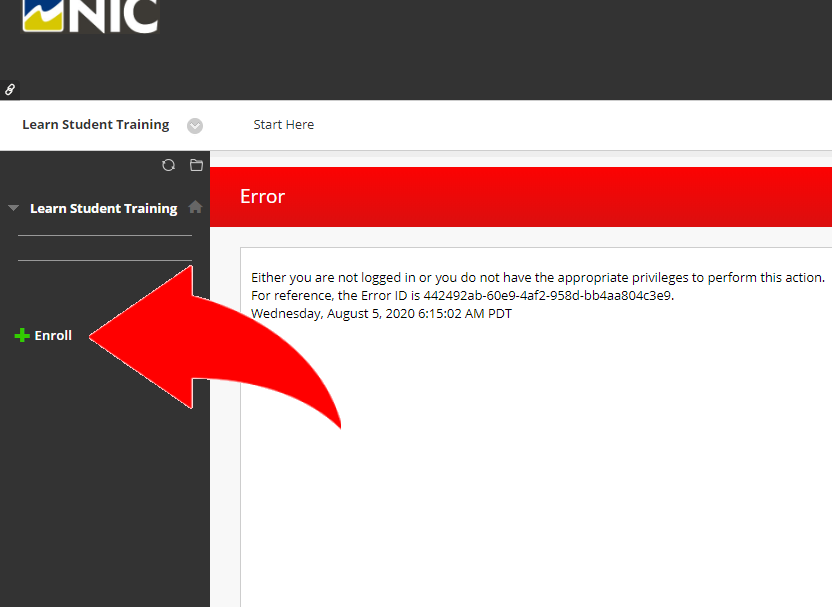 5. The course will now appear in your list of courses. If you click on the course and go into it you should see the following image as the "Start Here" page.
6. Read the text on the start here page and go in any order you wish to explore the features and functions of Blackboard. The order suggested in the left menu would be good if this is your first time.
7. Take the "Practice Test" at the end  to see how grades look in the My Grades section.
8. Enjoy. If you have any questions about Blackboard Learn connect with the fine people in Student Technical Services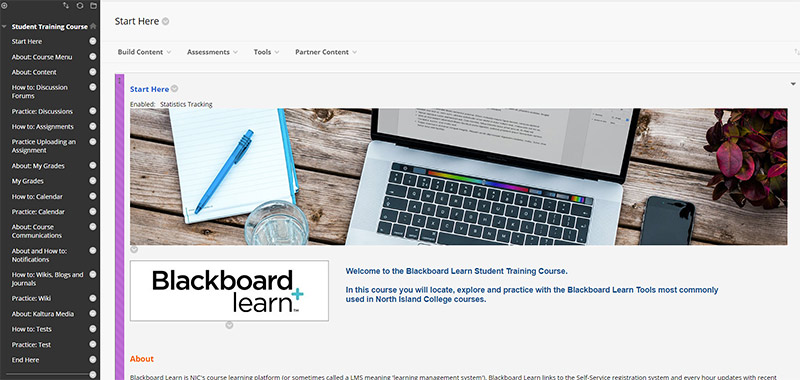 Overview Video of Student Training Course